---

DISCOGRAPHY
---
GONNA GET IT - 1995 - TURBO TITANS RECORDS
Actually recorded in '94, before we had a name for the band, before we had a drummer. Kevin Cole on drums, Dave Crook on vocals.. Check out the video made by the same guys that did the first Wu-Tang Clan videos.
Watch the video!
SUPERCHARGED STRAIGHT TO HELL - 1995 - TURBO TITANS RECORDS
6 song CD EP. On our own label, still back when the A.C.'S were in the concept stage.
PUNK ROCK JUKE BOX - 1995 - BLACKOUT! RECORDS
Blackout Records founder Bill Wilson gives us a shot! Our version of "Woman" By Anti-Nowhere League on THE PUNK ROCK JUKE BOX & a 7"deal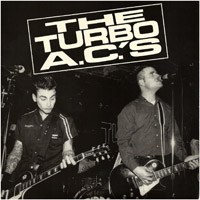 EAT MY DUST/RIGHTEOUS RULER 7" - 1995 - BLACKOUT! RECORDS
The Turbo Sound really starts here.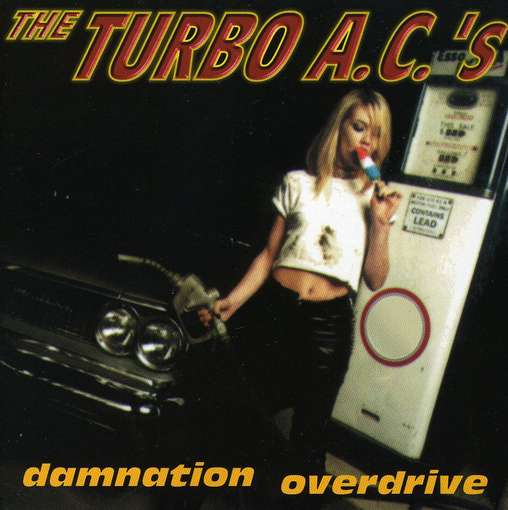 DAMNATION OVERDRIVE - 1996 - BLACKOUT! RECORDS
Our first full length album. GEARHEAD MAGAZINE calls the Turbo A.C.'S "A younger hungrier Supersuckers." Fans in Europe demanded a tour.
Watch the video!
RAFR 2 - 1997 - FLIPSIDE RECORDS
Martin McMartin's Flipside compilation puts us on the map with some of the best bands around THE HUMPERS, HELLACOPTERS, ELECTRIC FRANKENSTEIN... to name a few.
CHUPACABRA! 7" - 1997 - BLACKOUT! RECORDS
The story of the bloodthirsty monster of Mexican folklore. B/W 13seconds (rare versions only on this 7").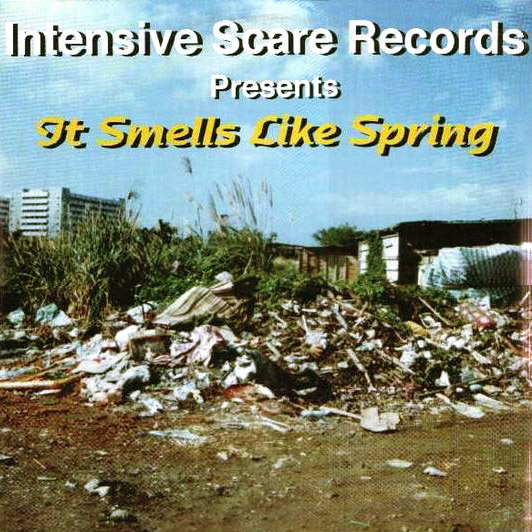 SMELLS LIKE SPRING - 1997 - INTENSIVE SCARE RECORDS
Unreleased version of Mean Mistreater on this International Compilation, Double Album on Blue Vinyl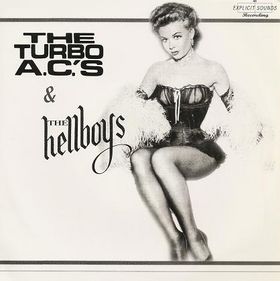 HELLBOYS/TURBO A.C.'S SPLIT 7" - 1997 - EXPLICIT SOUNDS RECORDS
International Playboy, and sometimes member of The Turbo A.C.'s Nikola Hellboy (RIP) organized this one. Only 500 pressed in France (Pink Vinyl)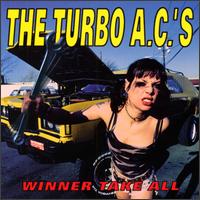 WINNER TAKE ALL - 1998 - CACOPHONE RECORDS/COMMUNITY/RENATE RECORDS
After 2 tours of Europe and the US, longtime fans at Cacophone Records step in to do this album. More Surf, More Punk More Rock...the Turbo Sound takes off!
Click here to download!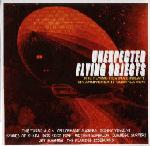 UNEXPECTED FLYING OBJECETS - 1999 - FLYING RED VINYL
Previously unreleased version of "TRUE BELIEVER" in Europe. Kick Ass compilation for the 5 year anniversary of THE FLYING REVOLVERBLATT one of Germany's coolest Fanzines. With the CELLOPHANE SUCKERS, SCARED OF CHAKA, and more
HERE WE ARE NOWHERE - 1999 - SUBSTANDARD RECORDS
Previously unreleased in the U.S., this version of "TRUE BELIEVER" appears on another great compilation with UK SUBS, SWINGIN UTTERS, & MORE...
HIT & RUN 7" - 1999 - INTO THE VORTEX
The coolest all vinyl label around, also released vinyl version of Damnation Overdrive
VANS WARPED TOUR COMPILATION '99 - 1999 - JKP RECORDS
Having done some of the Warped Tour in Europe we were included on the CD with eveyone from H20 to Ice-T!

HIT THE ROAD 10" PICTURE DISC - 1999 - COMMUNITY/RENATE RECORDS
Featuring Hit The Road from Winner Take All, wtih artwork made from clips from the Hit The Road video. Plus 3 unreleased tracks, one being our version of the surf classic Exodus!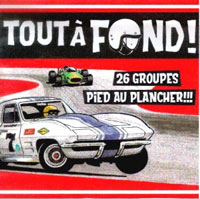 TOUT A FOND - 1999 - KILL CITY RECORDS
Out of the South of France featuring "Be Fast", soon to become the namesake of this company's own label!
HEADS WILL ROLL COMPILATION - 1999 - SONIC TONE
Featuring Hit & Run from the German import as well as tracks from ZEKE, NASHVILLE PUSSY, GLUECIFER... Special thanx to Joe Truck from the Snakecharmers for putting this one together.
NOVA! - 2000 - FAN BOY RECORDS
Nova b/w (the otherwise unreleased) Total Damage

PRIMER BLACK - 2000 - KNOCK OUT RECORDS
Split with the Electric Hell Club with our demo version of Primer Black
CLEAN - 2000 - RADIO BLAST RECORDS
Featuring (the otherwise unreleased) Clean from the Fuel For Life sessions produced by Roger Miret. Split with The Demonics doing MOPAR OR NO CAR
FUEL FOR LIFE - 2001 - NITRO RECORDS
Signed by Dexter Holland of Offspring to his Label Nitro! Produced by Roger Miret of Agnostic Front.

PUNKZILLA - 2002 - NITRO RECORDS
Killer Nitro compilation, featuring Hypnotized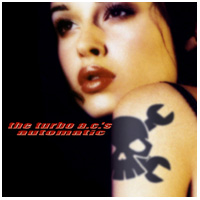 AUTOMATIC - 2002 - BITZCORE/GEARHEAD
Produced by Blag Dahlia of The Dwarves, Mixed by Billy Milano of S.O.D. Louder... Faster... Flippin the bird in the face of disaster!
Watch the video!
Click here to download!
THINGMAKER - 2003 - GEARHEAD RECORDS
Featuring Perfect Crime off Automatic and our very rare version of OD'd in Denver! Along with tracks by The Riverboat Gamblers, New Bomb Turks, The Hellacopters and more!
QUIKSILVER'S YOUNG GUNS 2 - 2005 - QUIKSILVER
Quiksilver Surf DVD featuring The Future off Automatic! Starring: Kelly Slater, Dane Reynolds, Ry Craike, Fred Patacchia, Troy Brooks, Jeremy Flores, Alain Riou and Introducing Clay Marzo and Julian Wilson.
Watch the video!
AVENUE X - 2005 - BITZCORE/GEARHEAD
Self-produced, Punkrock Surfguitar Anthems for 2005!
Watch the video!
Click here to download!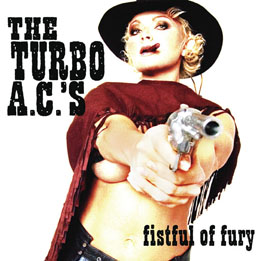 FISTFUL OF FURY 7" - 2005 - ALLEYCAT RECORDS
First release from Alleycat Records in Stockholm Sweden. B/w Knifefight. Cover Photo by Timothy Dolph.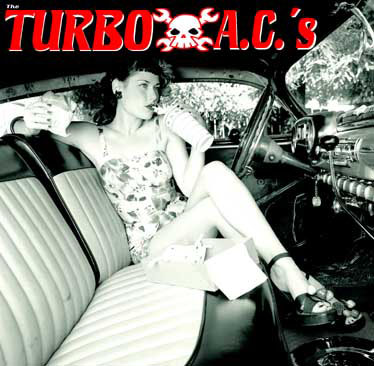 TURBONAUT - 2005 - NO BALLS RECORDS
Split with The Dwarves, Sold out within days of the release!
1-800-EAT-SHIT - 2005 - BE FAST RECORDS
On "Be Fast Records" (Label named after one of our songs on Damnation Overdrive) from Motpillier France! B/W "Incognito" rare bonus track!
LIVE TO WIN - 2006 - ACETATE/BITCORE
First studio album recorded with the new 4 piece Line Up!
PUNK IT 2007 - 2007 - IMPERIAL RECORDS
Featuring our version of "Danger Zone" by Kenny Loggins. Released only in Japan.
THE SOUNDS OF GASOLINE VOL 1 and 2 - 2007 - GASOLINE RECORDS
Featuring Genuline and Overdrive off Live to Win
PUNK IT GREATEST HITS - 2009 - IMPERIAL RECORDS
Featuring our version of "Danger Zone" by Kenny Loggins once again. We're guessing they like it!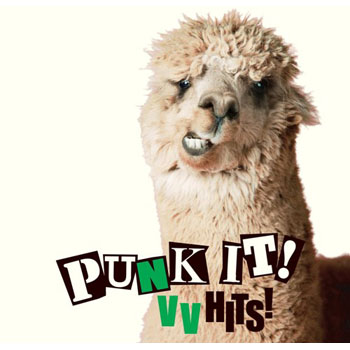 PUNK IT VV HITS - 2010 - IMPERIAL RECORDS
Featuring our version of "Danger Zone" by Kenny Loggins... 3-PEAT!
NOTE - IMPOSSIBLE TO LIST EVERY COMPILATION HERE... MORE TO COME.